"It's the color that attracts me to them. Pure color."
- Hunt Slonem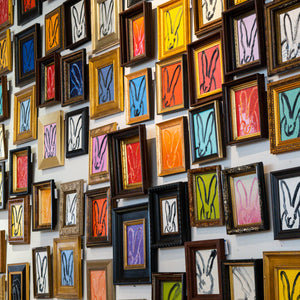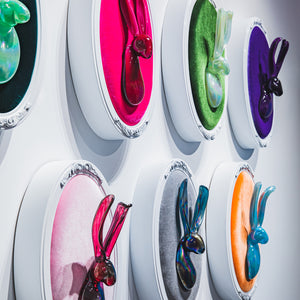 As with many of Slonem's other series, there is a meditative yet unconstrained repetition of form. At once both rhythmical and slightly, yet intentionally, out of cadence with the world of the expected, the Salon Busts series is a continuation of the artist's desire to re-contextualize ephemera previously attributed to stuffy salons of bygone eras. 
Handblown glass bunny busts in Slonem's pronounced bold palette, presented in a richly upholstered and ornately gilded framed context befitting the most outlandish Oscar Wilde effigy, each artwork commands attention on its own merits. Custom frames, made exclusively for Slonem's bunnies, are based on traditional turn of the century design that he has such affection for. As a collective installation, Salon Busts is pure visual exuberance.
"This witty Formalist strategy meshes the creatures into the picture plane and sometimes nearly obliterates them as images, but it also suspends and shrouds them in a dim, atmospheric light that is quite beautiful."
- Roberta Smith
The New York Times Art Critic