"Rabbits are welcome. I've never been plagued with an uwanted number of them."
- Hunt Slonem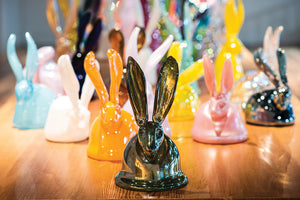 Slonem's new glass sculptures are a sublime visual manifestation of the artist's sense of play. Each unique work's hand formed composition reflects his gestural and loose engagement with the materials, much like his tactile interaction with his beloved oils. When seen in large groupings similar to his commanding large works on canvas, Slonem's bunnies en mass present the viewer with dazzling spectacle of color-fueled inertia. 
Produced at his West Coast studio in Seattle, Washington, Slonem directs his team of artisan glassblowers in the formation of new works with the same quick gestural dance of his paint brush marks on canvas. 
"By varying the moods and
techniques of his work in
fresh and exciting ways, Hunt
Slonem creates beautiful work
that continually gives joy and
surprise."
- Henry Geldzahler
Metropolitan Museum of Art Curator, Art Historian & Art Critic